FOREHEARTHS PRE-HEATING and PRE-HEATING CURVES 
All refractory structures have to be preheated before going into operation, since they are subject to a certain thermal expansion, and thus the consequent volume increase must be gradual to avoid any breakage later.
The working temperature inside the glass melting tank, as well as in the forehearths could be theoretically reached in a short time, but in this case there would be no time to uniform the temperature of the refractory structures.
For instance, should a glass melting tank be heated too quickly, the fused cast sidewalls blocks would reach a very high temperature on the internal faces, and much lower on the external ones.
The hottest area would expand then much more than the external one, and thus it could cause breakages since it could not move due to the brake created by the colder area.
Should otherwise a refractory not expand by a temperature increase, it would not even move and thus not break for this reason.
A refractory with a such behaviour exists: fused silica has an extremely low thermal expansion (close to zero) and it is therefore used for hot repairs.
Both channels and forehearth superstructures are manufactured in different qualities, according to the type of glass and forehearths (colouring or not), and this has to be considered by setting a heating-up curve.
Each quality has its own heating-up curve, which is bound to the type of material it is made of.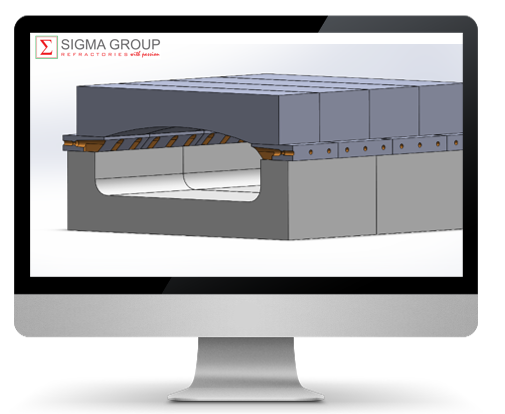 In order to set a right forehearth heating-up curve, the thermal expansion curves of the refractories installed have to be known. Furthermore, it should be considered that the temperature growing rate has to decrease in case of irregular expansion changes, while it may increase in case of a linear expansion.
Should refractories with both kinds of thermal expansion be used in a forehearth, the curve has to consider all possible changes and critical points.
Do you want to read the complete technical paper?
Register to our website and enter our Refractory Shop!
S.I.G.MA. propose a wide range of refractory materials, products availability, delivery time, technical data sheets and technical articles and documentation to help you choose the right products for your furnaces!
Click on the button below and fill out the form with your data. Our commercial department will authorize your account and you will navigate our new Refractory Shop.